Robert was injured when a 1700-pound pallet fell on him, leaving him a complete paraplegic. Then he developed an infection in his leg that resulted in an amputation.
He had been struggling for a year trying to get his wheelchair (not from ATF Medical) to work with his lifestyle when his case was referred to ATF Medical and he met Rehab Specialist, Kevin Wallace, ATP, CRTS.
His manual TiLite TRA was fine for indoor use, but Robert needed to be able to wheel around his roughly two-acre property. Much of his land is hilly, and he likes to hunt and fish and enjoy his creek. Also, his property sits next to a national park with trails he wanted to explore.
But most of all, he wanted to be able to take his two-year-old daughter on his nature excursions.
Upon receiving the case, Kevin called Robert to discuss his injuries and capabilities, lifestyle and terrain, and his desire to bond with his little girl. Having previously worked in pediatrics, Kevin knew nothing on the market had a toddler seat attachment.
So, he went to work designing a way to attach and remove a toddler bicycle seat easily and safely. Robert and his fabulous case manager bought into the concept, and Kevin made a mount for a rack, connected it to a freewheel extension.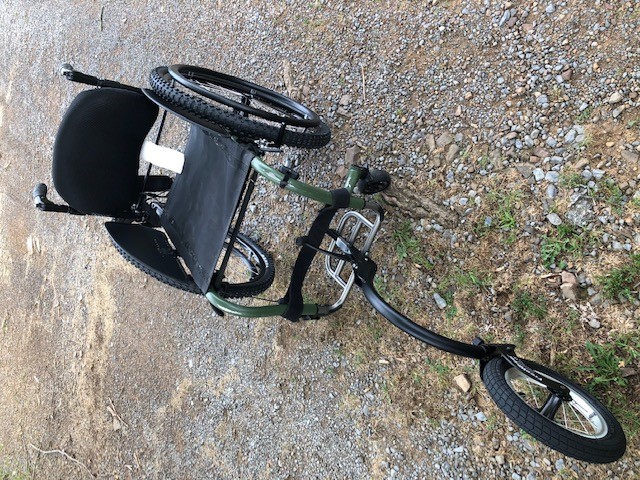 The big moment came when he attached the toddler seat to the chair. The expression on Robert's face was priceless.
"His chair has a dump to it, to keep him positioned in the back of the chair, and his daughter can sit in front, facing him. He can keep an eye on her and see what's happening in front of them," Kevin explained.
Kevin also switched out the rims and tires with larger, sturdier rims and big knobby tires, careful to keep the seat-to-floor height. Now, Robert can easily access parts of his property that he hadn't laid eyes on since his injury. He can also use a single handle to easily detach the freewheel device and seat, when riding without his little passenger.
This is just another example of how ATF Medical goes above and beyond to help injured employees live their best lives. With innovation and caring about the injured person's desire to enjoy the outdoors and introduce nature to his little girl, Kevin made Robert's desires a reality.