The 17th Columbus Collision Wheelchair Rugby Tournament was held last weekend (Dec. 7-8, 2019), and ATF Medical was there to support the event.  Our Rehab Support Coordinator Brad Burns plays on the Buckeye Blitz team, and Executive Director of Rehab Technology Erin Zablocki and Shawnette Duelley, Manager, Rehab Technology were on hand to cheer them on.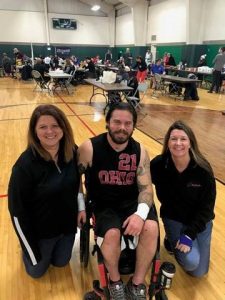 "You can't understand how exciting these games are until you see one in person," said Jeremy Finton, co-director of the Paralympic Sports Club in Columbus, Ohio.
Played on a basketball court – this time courtesy of the Cleo Dumaree Athletic Complex – wheelchair rugby got its start in Canada during the 1970s, gradually spread around the world and is now a Paralympic event.  It's played by athletes with no or limited function in their arms or legs.
Also known as "quad rugby" or "murderball," wheelchair rugby features a set of four athletes from one team battling four from another.  They pass, dribble, block, and catch the ball, in a rough-and-tumble race to get it across the court. Specially crafted chairs take punishing hits, sometimes knocking players over.
"Fast-paced" is an understatement.
"Brad is an aggressive and enthusiastic player," noted Finton, who also plays for the Buckeye Blitz and manages the team. "We were delighted to meet his coworkers, and we really appreciate ATF Medical's sponsorship of the tournament.  Corporate sponsorships play an integral role in allowing us to provide recreational and competitive opportunities for adapted athletes throughout Ohio."
Sports like wheelchair rugby give participants a sense of community and empowerment.  Players have a chance to interact with people who "get it," according to Finton.
"Team dynamics do so much for your personal development, leading to organizational awareness, accountability, drive, and goal setting–things that spill over into the rest of your life, including in the professional world," he added.
Find an event or find a team (they're are always looking for new players) by searching www.usqra.org .