It comes as no surprise that ATF Medical's employees are giving, caring people or that the company gives them each a paid volunteer day each year. Even before joining the company five years ago, Rehab Specialist Kevin Wallace, ATP, CRTS, threw himself into the Berks County, Pennsylvania Special Olympics.
Known there as "the wheelchair guy," Kevin totes his tools and programmer to the event every year and adjusts wheel locks, walkers, and seats for attendees. He and his wife Kim have volunteered at the event for 20 years, to support the event and their son Connor, who has Down's Syndrome.
"We used to bring all the area schools together for the event, but it got so large that it became too much for the kids with autism," Kevin said, "So, now each school hosts their own and this one was held in May at my alma mater, Wilson High School."
The event kicked off with one of the students singing the National Anthem, followed by the creed Creed for Special Olympics, which is "Let me win. But, if I cannot win, let me be brave in the attempt." After a parade around the track, the games began. Softball toss. Wheelchair races. Running races. Long jumps. Bicycle Races.
Connor Wallace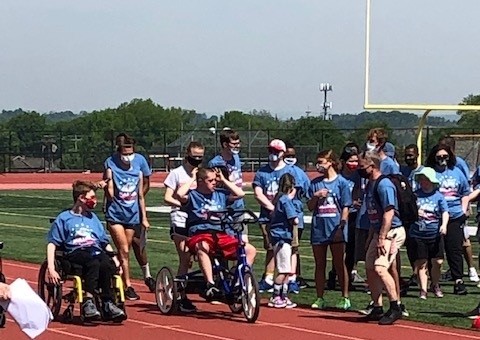 won the wheelchair race. His dad barely had time to cheer him on since he was inundated requests for wheelchair adjustments and tune-ups. Kevin worked in children's pediatrics for 20 years before joining ATF Medical and has known some of the kids and their families for 30 years. He has a degree in Rehabilitative Science and a background in sports medicine.
"The Special Olympics is a fun and emotional day for all the kids and families—for everyone concerned," he said. "Working with these athletes, injured workers, and others who have disabilities reminds me that everybody has challenges," he said. "It's what you do with them that makes the difference."