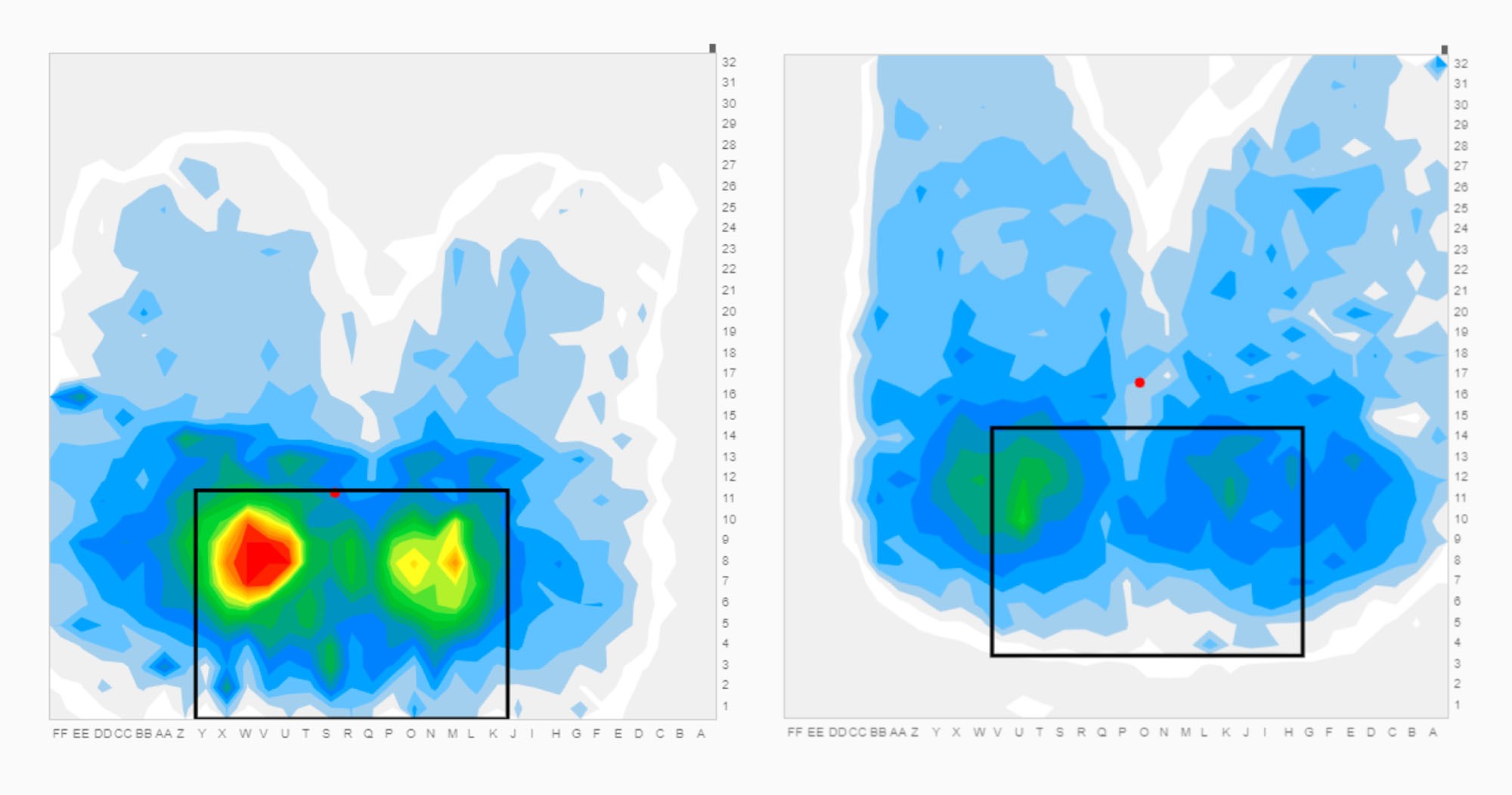 Pressure mapping helps ATF Medical identify potential pressure injuries. The hot (red) colors on the left show the pressure is unevenly distributed in the current seated position, making it likely an injured worker will develop pressure-related injuries. The cool (blue) colors on the right show the pressure being evenly distributed. (Image provided by Vista Medical.)
Pressure injuries–sometimes called bed sores or wounds–can be painful and dangerous, causing hospitalizations and even death in severe cases. Injured workers who use wheelchairs or are confined to beds are at high risk for developing them. Sitting or lying in the same position too long, medical equipment that isn't fitted or used properly, certain clothing, and the wrong seat cushions and poor mattresses can cause them.
ATF Medical's Director of Rehab Technology Edwina Murphy, OT, ATP has designed a program to prevent pressure injuries and to recommend interventions.
Our Pressure Injury Prevention and Intervention (PIPI) program analyzes clients' claims to identify workers who are at risk for developing pressure injuries and recommends ways to prevent them. Pressure mapping helps occupational therapists and assisted technology professionals to zone in on the areas that need adjustment.
"Pressure maps are excellent educational tools, too," Edwina said. "When a patient sees how a movement or adjustment can change the map colors, they're much more likely to comply with pressure relief techniques."
The PIPI program consolidates prevention protocols that apply to a specific injured worker and shares this information with all the providers and claims representatives involved on a claim. "There's a great deal of clinical knowledge and research about pressure injuries, but it's not all in one place and it's not tailored to a specific person," she said.
The home health nurse and adjuster may know that an injury is developing, but the treating physician, durable medical equipment technician, and in-home physical therapist may be unaware. "Communication, collaboration and accountability are key to ensuring the worker receives the right preventative care or intervention," Edwina said.
See this news release describing the program and contact Edwina Murphy, emurphy@atfmedical.com, to learn more about PIPI and sign up for it.
Related posts: https://www.businessinsurance.com/article/20220131/NEWS08/912347583/ATF-Medical-launches-prevention,-management-program-for-wound-injuries