Steven Killius (left) receives his first wheelchair after incurring a spinal cord injury at work. ATF Medical's David Bedard (right) customized the chair, which is a manual with a power assist.
Our Manager, Complex Rehab Technology, David Bedard, ATP, CHAMP gets excited when he gets to customize a workers' comp patient's first wheelchair. "You want the patient to have a positive experience so you need to get it as close to perfect as possible," he said.
Recently he customized a manual chair for Steven Killius, an injured worker who suffered a spinal cord injury during a motor vehicle accident.  ATF Medical received the referral while Steven was treating at Brooks Rehabilitation in Jacksonville, Florida.  David met with Steven and collaborated with his physical therapist, Erica Walling, to create this mobility solution.
"Brooks has a great neurological program. The physicians are very good about prescribing assistive technology, and the clinic has a wide variety of chairs for the patients to try out," David said.
Steven, who is in his mid-40s, is a paraplegic with good upper extremity function and his team decided on a Permobil TiLite with its SmartDrive Power Assist that extends the length of a push. The user can push once and the chair continues to glide, sometimes twice as far.
"The amount of power you give it determines how far it will roll or how quickly it can climb a hill," David explained. "Power assists reduce the number of pushes, preventing wear and tear on shoulders, wrists, and elbows." With them, users can more easily traverse a large area, such as a warehouse the size of a football field.
This model features a wearable, a watch that can control the chair. The injured worker can hang their wrists on the side of the chair instead of pushing the on and off switch.
Another customization is the Invacare Matrx positioning back. Its carbon fiber shell is lightweight and durable.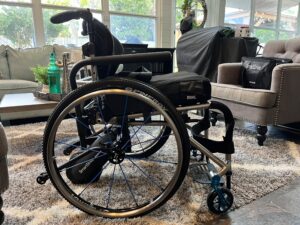 Because this injured worker has good torso control, the chair has a low back to allow him to reach behind himself to grab a water bottle or phone.
Steven was grateful for the power assist and wearable. "This technology will make a big difference for me when I'm using the chair to navigate day-to-day routines," he said. "And it will help save my shoulders."
Because he will probably spend 10-15 hours a day in the chair, selecting the right cushion was vital. The team chose a hybrid combination of air cells and high-density, positioning foam made by Roho.  The air cells in the rear allow users to immerse themselves in the material, which disperses pressure over the greatest possible area. This helps with pressure release so patients can maintain skin health and avoid pressure injuries.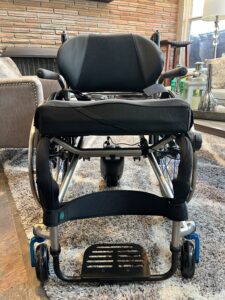 The front of the cushion, composed of a higher density memory foam, carves out a place to cradle his legs to maintain natural, neutral sitting positions and sitting balance.
Its rigid, titanium frame is durable and energy efficient. Carbon fiber Spinergy wheels cut the chair's weight. "Removing as much metal as possible keeps the chair as light as possible, making transfers easier," David added.
David and the Brooks' team took care to think through the patient's needs and customize a manual chair to help him keep exercising as much as he can.  Since he was very active before the injury, he will likely want to test his physical limits in the chair.
David demonstrated the chair's features when he went to Brooks to deliver and fit the chair.
"But I encouraged him to use it as is, first, then add the power assist features gradually," he said. "Patients already receive so many instructions when they go home from rehab, we don't want to overwhelm with the tech."
Complex rehab technology (CRT) can make someone's life better if the configuration is right – at least as close to perfect the first time. ATF Medical's specialists pay attention to the details to set patients up for success. Next time you have a claim requiring CRT, mobility products, or home modifications, email us at referrals@ATFMedical.com.  We're dedicated to helping injured workers regain their independence, mobility, and functionality.